SALES: We offer a wide variety of custom-made blinds and window treatments to meet your decorating and privacy needs.

SERVICE: Service is our priority. We provide on-site service, pick-up and delivery, or drop off service for you -- our valued customer.

CLEANING: At Hang&Shine of Pembroke, KY, we clean all types of blinds using ultrasonic sound waves -- the same type of sound waves that are used to clean fine jewelry. This cleaning process is the safest and most thorough in the cleaning industry.

CUSTOM DESIGN: Do you want to redecorate your office, bedroom, or living room but have no idea where to start? Whether commercial or residential, Karen Pyle can help you with her design & decorating expertise!

SERVICE AREA: We provide sales and service in southwestern Kentucky and northwestern Tennessee, including: Hopkinsville, Cadiz, Princeton, Bowling Green, and surrounding areas of Kentucky; and Clarksville and surrounding areas of Tennessee.





WINDOW COVERING SPECIALISTS
COMMERCIAL & RESIDENTIAL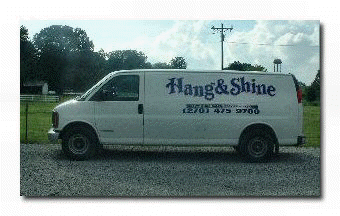 SALES, INSTALLATION, SERVICE, & CLEANING
CUSTOM INTERIOR DECORATING & DESIGN
Steve and Karen Pyle

For more information regarding sales, service, cleaning, or custom design, just click on the links on the left of the page,
or contact us at: hangshine@bellsouth.net
Telephone: (270) 475-9700, toll-free: 1-888-272-0446, Fax: (270) 475-6883
Call us today for an on-site appointment or a quote over the phone!

Our business office hours are 8:00 AM to 5:00 PM CST, Monday through Friday.
Due to our on-site custom service, we are not always in our office.
Please leave a message and we'll get right back with you!

Remember "Service Is Our Priority"!

Proud users and distributor of Dirtyblinds.com equipment.


Website Design & Maintenance by Quest Graphics Design
Hang & Shine of Pembroke, KY © 2003-2006 - All Rights Reserved
Optimized for Internet Explorer